Last month at NoCo Hemp Expo, HIA board of directors member Anndrea Hermann was honored with the prestigious Mother Earth Award – Lady of Agriculture at the WAFBA Awards of Excellence ceremony. She is the HIA's longest-serving seated Director, past President, and current Secretary. Anndrea is the second recipient of the award, following 2022 winner Winona LaDuke, establishing a prestigious lineage for this award that recognizes women whose contributions to the hemp industry have had profound and positive impacts: 
"A woman whose entrepreneurial spirit has ushered a new era of business leaders through her skills and execution in agriculture. She is a visionary who has cultivated relationships through education, inclusivity and collaboration. Her determination and dedication support our farmers and contribute immensely to building the supply chain, making her a trailblazer and an inspiration to others."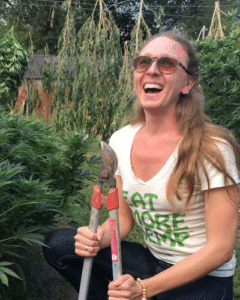 A Missourian by birth, Anndrea now resides in Manitoba, Canada, working as the Director of Inside Sales for HPS Food & Ingredients, Principal at The Ridge International Cannabis Consulting, and Publisher of the English translation of hemp-centered children's books. During her more than 21 years advising hemp and cannabis businesses, she has accumulated numerous credits, including: Founder of HGrown Consulting Mexico, Owner of Hemp Technologies Canada, Founder of  iHempRadio, Founding Instructor OSU WSE266 Course, and Canada Hemp Licensee.
Previous accolades include (though not limited to) The Hemp Industries Association's Lifetime Achievement Award (2018) and the Canadian Hemp Trade Alliance Business Builders Champions of the Industry Award (2009). In 2017, Anndrea became the first woman to be inducted into the Hemp History Hall of Fame.