A Western Australian researcher with the Rural Industries Research & Development Corporation (RIRDC) this week announced the phase 1 results of a multi-year research project entitled Opening the gates to hemp-grazed livestock in Australia.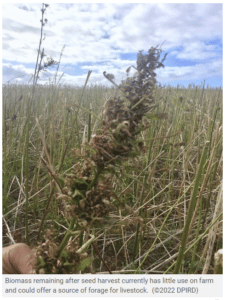 The results, which are available online here, have significant implications for the potential utilization of hemp for the grazing of ruminants. Australia sets strict regulations that make it illegal to feed the following to food-producing animals:
Any hemp plant that still has leaves, flowers or seeds attached.
"Failed" industrial hemp crops left unharvested in a growing paddock.
Non-denatured hemp seed.
Those strictures leave a lot of valuable biomass on the table, and ruminants (grazers like sheep and cows) have a four-part digestive system ideal for breaking down fibrous plant material. The project has two main goals: to understand the effects of consuming hemp biomass on growth performance and carcase traits of sheep and to  measure cannabinoid excretion from sheep and accumulation in tissues.
In the United States, similar studies are underway that aim to gather necessary data to open the billion-dollar livestock feed industry to hemp, led or supported by the nonprofit Hemp Feed Coalition.
The study is being conducted by Dr. Brownyn Blake, hemp farmer and owner of  Vasse Valley Hemp, which is the first Western Australian paddock-to-plate hemp foods business in the region.